Bike the most scenic routes in the Loire Valley and savour its elegance, history and natural beauty. Our carefully selected beautiful authentic hotels provide the perfect setting for an elegant evening after your day in the saddle, while you savour a crisp Crement de Loire as your watch the gracious hot air balloons float by. History, Kings, wines, cheese, sunflowers, strawberries, asparagus, gardens, troglodytes, chateau after chateau after chateau...the Loire Valley has it all and epitomises quintessential France. Located an hour south-west of Paris by TGV, this is an ideal trip especially for those folks who'd like to spend time in the real French countryside while being close to Paris and other regions worthy of a quick visit (such as Champagne, for example) after their bike trip.
Please see our blogs for Bordeaux and for Paris to help with pre and post trip suggestions.
Dates Loire Valley | Prices Loire Valley | Included Loire Valley | Extras Loire Valley | Reviews Loire Valley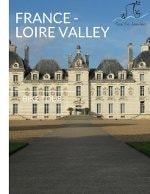 On our first morning, we'll meet at 10am in the centre of Blois and transfer to the first of our included chateaux visits; the unmissable Chambord with its 365 chimneys and stunning royal hunting grounds.
Our rides: 
Chambord to Cande sur Brevon (Classic) or Onzain (Deluxe)
Cheverney loop
Cande sur Brevon or Onzain to Amboise
Chenonceaux to Saint Branchs (Classic) or Montbazon (Deluxe)
Vilandry loop
On our fourth and fifth nights we stay in either a unique family-owned and run property and get to enjoy all the benefits of an authentic French home stay experience with the luxury and independence of a hotel stay, or you'll luxuriate in a magnificent family owned and run fairy tale chateau overlooking the Indre river valley.
Itinerary
Day 1, Sunday
Your Fresh Eire Adventures craic commando team will meet you at either Blois train station or at your hotel in Blois (I recommend that you spend Saturday night in Blois). Please be dressed ready for biking (padded bike shorts are a great idea all the time – BUT ESPECIALLY ON THE FIRST DAY) when we meet. We'll take care of your luggage (sending it on to your hotel) and then we'll transfer to our first chateau of the week; the spectacular Chambord. While you stroll around the chateau your bike will be prepared and then we'll meet for a light picnic lunch in front of the chateau.
You'll sample your first Cremant de Loire (sparkling wine) while being fitted to your bike. After a review of bicycling safety, we'll introduce you to your bikes, show you how to change gears & use the brakes (please, humour us – it's always best to go over everything as every bike is different), and make some micro adjustments to ensure a comfortable ride for the week ahead and then we'll set off.
Today we'll stick to the Voie Verts (Green Ways which are a mix of bike paths) and less travelled public roads.  We'll ride out of the estate and pass through rural farmland so expect to see strawberry and asparagus beds, sunflower fields following the direction of the Loire.  
Once in Cande-sur-Beuvron we'll cross the mighty river and enter the village of Onzain. You'll check into your first hotel, either the fabulous Hôtel Domaine Hauts des Loire (Deluxe) or Auberge de la Caillere (Classic) where we'll stay for two nights.  You'll have ample time to relax and change for dinner.  Tonight we'll dine at the restaurant in Auberge de Calliere where Erik will cook up a spectacular 5 course tasting menu for us. Expect to be wowed with the finest of what the Loire has to offer.
Here, read a TripAdvisor review of dinner at Auberge de la Caillère:
"We were booked into his hotel on our bike trip thru the Loire Valley. The tour company, Fresh Eire Adventures did a fantastic job finding classic places to stay and amazing food experiences for our group.  Our room was in the older classic section of the hotel and reminded us of some other pleasurable B&Bs we encountered in France. The room perhaps needed some tweaking to bring it up to a high standard but none the less was comfortable, quite and had most everything we wanted. The grounds and common hotel area are very nice and the staff outstanding.  The real treasure at this hotel is the restaurant. We were treated to one of the best meals we've ever encountered.  The chef here will someday be famous. Our 6? 7 course dinner blew us all away. Absolutely beautiful in presentation and perhaps even better in taste, whatever you do, don't miss this place for dinner."
Included meals: Lunch, Dinner
Classic hotel: Auberge de Caillere (3 star)
Deluxe hotel: Domiane Hauts de Loire (4 star)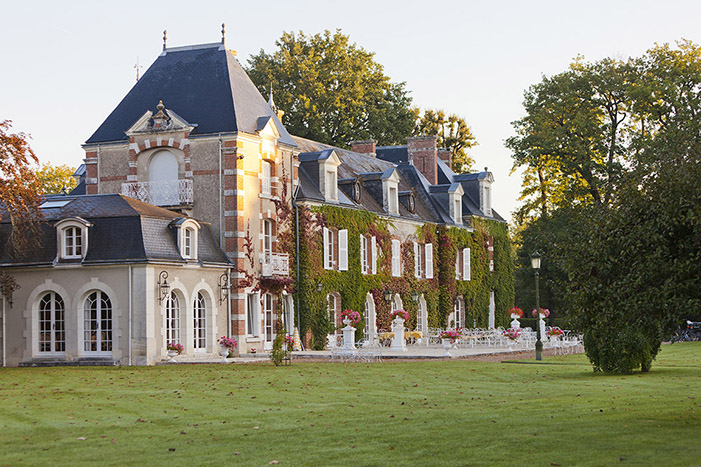 Day 2, Monday
After breakfast at our hotel (served from 8am) we'll meet in the lobby and have a brief meeting discussing the day ahead's route and highlights.  The Deluxe group will take off first at 9.15am and will meet the Classic group at 9.45 near their hotel.  We'll then take off altogether on our bikes.
On our second day we ride together to Chateau Cheverny; the inspiration for Captain Haddock's home in the Tintin comic strips (now a Speilberg movie).  You'll have an open lunch there in the Couer Cheverny (lots of options; my favourite is the creperie) before visiting a local wine maker and his authentic vineyard where we will sample the unique wines produced from the Romorantin grapes.
We return to our hotel by bike and, around 8pm, we'll transfer to the village to have a wonderful dinner together in La Charbonette - one of the finest authentic restaurants in the region; Nathalie takes excellent care of us and always ensures we have the very best of the best especially when it comes to the cheese chariot!  Expect a fine dining experience in a casual family run restaurant.  Nothing stuffy here; just outstanding food paired with excellent Loire wines.
Tonight will be our final night in Onzain; tomorrow morning you'll be checking out of your hotel after breakfast.
Included meals: Breakfast, Dinner
Classic hotel: Auberge de Calliere (3 star)
Deluxe hotel: Domiane Hauts de Loire (4 star)

Day 3, Tuesday
We'll be checking out this morning so please make sure your luggage is ready for transportation (and please look under the bed to make sure your favourite pair of socks has been packed – we won't go back for them regardless of how much they caress your piggies.  We might make an exception for a passport…but the drinks are on you if we do!) following breakfast.
This morning the Classic group will depart their hotel at 9.15am and will cycle to the Deluxe hotel where we'll all congregate and take off on our ride together at 9.45am.
While this morning's ride is short, it is beautiful; we'll be riding through some of the most famous vineyards in the region as we pass through Mesland.  We'll also pass through a small village renowned for its cave dwellings; these much sought after homes are easily missed; your guides will be sure to point them out to you.  We'll also stop off at a small friendly market to see the fine array of local produce on offer; an opportunity to practice your French!  Know your "apples" from your "apples of the soil" and you'll be fine!
We continue on our ride to Amboise; a spectacular medieval town blessed with two significant chateaux of Francois 1st. While historic marvels await, I prioritise a visit to Madame Bigot's chocolate store for a mandatory tasting on every Fresh Eire Adventure! 
Most folks flock in their masses to the main chateau while, instead, we visit the wonderfully quirky, and final home of Leonardi da Vinci, Clos Luce.  Here we can explore not only the museum but actually the gardens where you can see some replicas of da Vinci's early inventions such as the water cannon and helicopter.  This quirky attraction makes for a welcome change from the formal daily chateaux.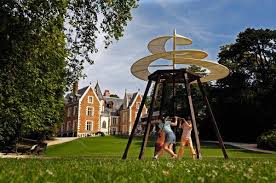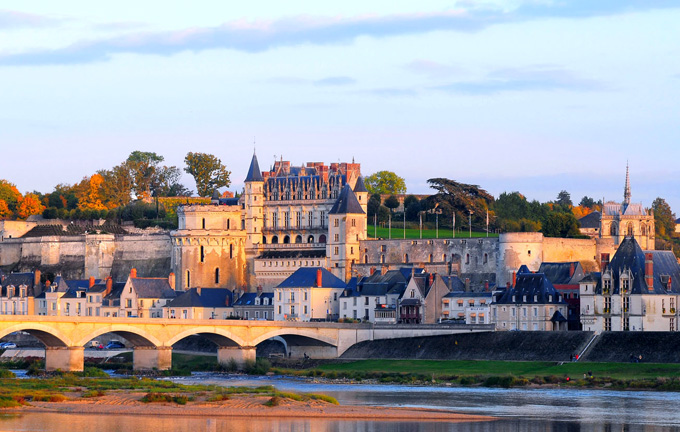 After our visit we shall have an informal lunch in the centre of town overlooking the chateau; my favourite is a creperie where you can sample the best Breton galletes, crepes and cider.  Our hotel is in the centre of town and is a real treat dating from the time of Napoleon.  Complete with all the expected modern facilities of a 4 star hotel, this bohemian property boasts a lovely terrace.  You will be free in the afternoon to explore the chateau of Amboise and check out this buzzing market town right on the banks of the Loire.  There is also an opportunity for an additional ride this afternoon to visit a wine producer in nearby Saint-Martin-le-Beau.  If you don't feel like riding you can take a transfer in our vehicle.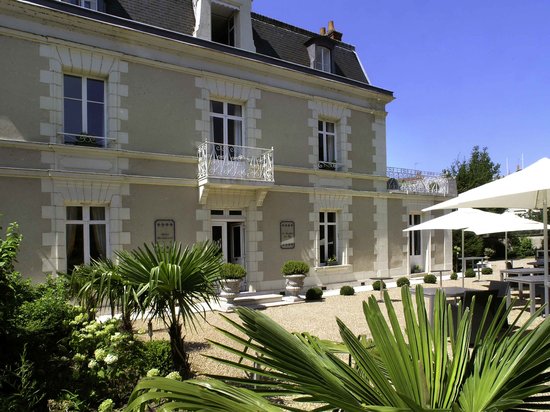 Dinner tonight will be on your own - there are many, many options here and a few fun bars overlooking the chateau and its remparts (my favourite is actually mid way across the river on the island – a raucous good time to be had there along with marvellous night time views of the castle!).
Included meals: Breakfast, Lunch
Hotel: Pavilion de Lys (4 star: Classic and Deluxe) or Chateau du Pray (Deluxe)

Day 4, Wednesday
This morning is another moving day.  After breakfast (more croissants! – eat early, eat often!) we'll check out of the hotel.  Our fourth day sees us leave Amboise and progress in the direction of the lagest town in the area; Tours.
This morning we will transfer you to the magical Chenonceaux chateau with its famous duelling gardens of Diane de Poitiers and Catherine de Medicis.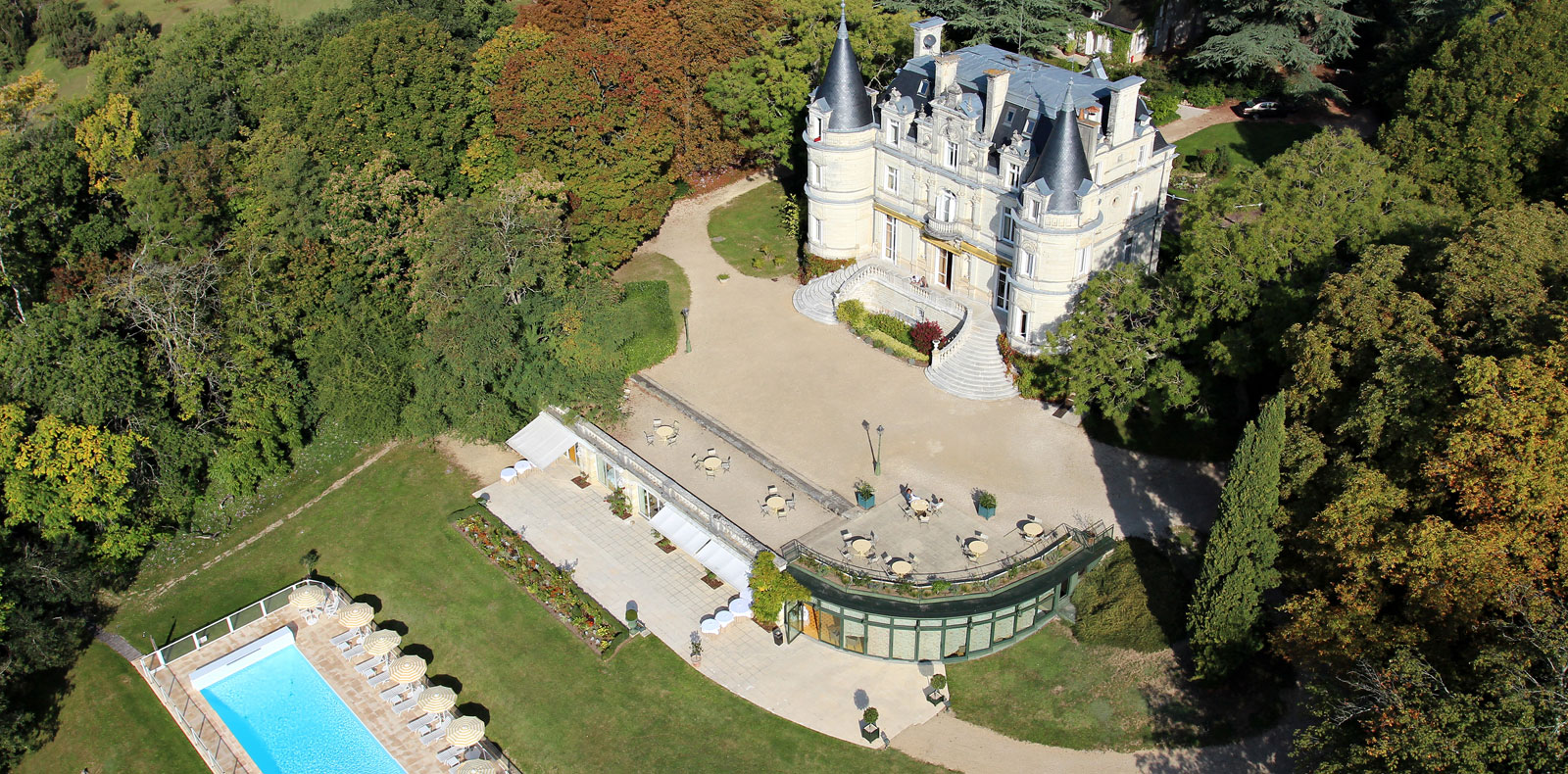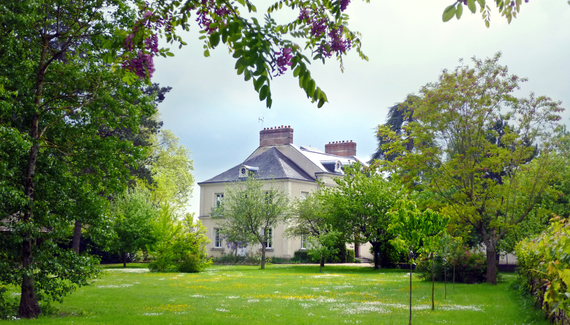 After our visit we'll have an authentic lunch in the village and then continue on our ride to our final hotels; either the Deluxe Domaine de Chateau de Tortiniere in Montbazon or the Classic Cedre et Charme in nearby Saint Branchs.
Built by the Dalloz family during France's Second Empire, the Deluxe Domaine de la Tortinière is a charming family-owned château at the heart of a magnificent wooded park overlooking the Indre valley.  The Classic Cedre et Charme is a very unique proposition for our guests; the owners recently quit their corportate jobs in IT and Education leaving Paris behind and brought their family to the Loire Valley where they have lovingly and meticulously restored this 17th century manor house.  No expense has been spared in its restoration and they have succeeded in balancing contemporary functionality with original features and antique furnishings.  The gardens are wonderful and are complete with a swimming pool.  And yes, there is a very old cedar tree on the grounds!
Tonight's dinner is in Tours, in the old part of town, in the buzzing square surrounded by Flemish buildings leaning precariously outwards.
Included meals: Breakfast, Lunch, Dinner
Classic hotel: Cedre et Charme
Deluxe hotel: Domaine de Chateau de Tortiniere (4 star)
Day 5, Thursday
Our fifth day's ride sees us cycle towards the Chateau Villandry with its marvellous gardens.  Here's you'll take your time to explore the geometric designs best viewed from the upper floors of the chateau itself.  Today's ride, our final full ride of the week, is one you'll take entirely at your own pace and we encourage you to stop and take those final photos, pat down those horses in the fields and practice your "Salut! Comment allez vous?" with the locals. 
Dinner tonight is at a local Michelin star restaurant in Montbazon, L'Évidence.  Tonight's dinner is in a formal setting and is a feast for the senses.   We'll toast our week together with a fine Vouvray.  Bon Appetit!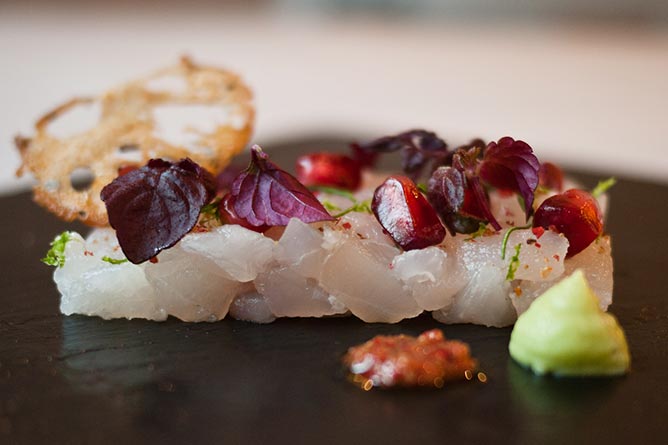 Included meals: Breakfast, Dinner
Classic hotel: Cedre et Charme
Deluxe hotel: Domaine de Chateau de Tortiniere (4 star)
Day 6, Friday
This morning we'll transfer you to Tours where you are free to explore the Musee dex Beaux Arts (and marvel at its ancient Cypress tree in front) at approximately 9am.  If you'd like to take a final early morning bike ride – please let your guides know the night before and your bike will be ready for you at 7.30am!  We will shuttle you to nearby St Pierre des Corps TGV station (Tours) where you can return to Paris or the airport, or make any number of rail connections to other regions, or pick up a rental car.  There are many fast trains (TGV) to Paris from Tours station (actually called St Pierre des Corps - Tours Centre station does not have TGV facilities). Most folks like to get a train that leaves around 10.30am so they arrive in Paris on time for lunch but rest assured your guides are available to you in Tours until midday.  Pedal on!
Included meals: Breakfast

---
Dates Loire Valley
Any start dates available upon request (subject to availability)
Prices Loire Valley
Classic - USD $4,895 pps. Single supplement $500
Deluxe - USD $5,795 pps. Single supplement $1000
Included Loire Valley
Use of hybrid bike and helmet. More about our bikes
Transfers from Blois centre (Hotel or SNCF station) on start day
Transfers to Tours centre (Hotel, SNCF / TGV station) on end day
4 exquisite dinners & wine
3 gourmet lunches & wines
Admissions to all included attractions & tastings
Baggage transfers
Tips for hotels/restaurants
Healthy snacks, water, full guiding services, support vehicle.
5 nights B&B in 3 & 4 star hotels (Classic) & 4 star hotels (Deluxe), with continental breakfast
Extras Loire Valley
Upgrade to a carbon road bike or e-bike at extra cost. More about our bikes
Self-guided Extension packages available in Paris (3 nights, 4 star from $1,295 pps)
Guided extension packages available in Paris (3 nights, 2 days Guided Tour, 1 free day from $1,695pps)
Gratuities for guides
Reviews on this Tour
Loire Valley Bike Tour
on
I've now been on several bike tours thorough France with 3 different tour companies. The first company is no longer in business. The second is a large California based operation that does an excellent tour. We enjoyed a great week of cycling in the Provence region with that tour group. While attending the Seattle Bike Expo, I met Padraic Doorey owner of Dublin, Ireland based, Fresh Eire Adventures. I shared my recent Provence trip details with him and inquired about his company.
Padraic explained that his is a small boutique company that strives to provide a high level of customer satisfaction that the large operators cannot match. His rates are more than competitive. The tours offered vary from private to small groups less than 10. He ascertains the desires of the group and delivers a product that pleases. Perhaps the only downside is that not as many trip destinations are offered, fortunately for us, several 2015 trips were of interest to us. Since we were interested in another cycling trip, this all intrigued me. But committing to a tour with a small company based in Dublin raised some doubts. I learned Padraic had been a lawyer in Ireland but after practicing law he realized he'd been unhappy continuing in that profession.
His love of travel, cycling, food and drink led him to cycling tours. Don't we all wish to be able to do that? He worked for several other large tour operators before starting his own company. I mentioned to Padraic that my wife and I had a trip to Ireland coming up, he graciously made trip recommendations and even offered to meet up with us and let us ride with his cycling tour in Connemara. His hotel and restaurant recommendations were spot on. He met us in Dublin and gave us a personalized city tour. Any doubts were erased.
[See full review in Tripadvisor]
Rating: 5

Related posts from our blog
Click here to see the top chateaux in Bordeaux
Click here to see the casual restaurants in Paris
---