Enjoy our easy, fully supported bike tour on riverside paths and through Sumava National Park, and UNESCO town of Czesky Krumlov with local guides. Bikes, hotels, and most meals are included.
Dates Prague to Vienna | Prices Prague to Vienna | Included Prague to Vienna | Extras Prague to Vienna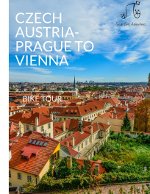 Our 6 night / 7 day bike trip from Prague to Vienna takes in three countries; Czech Republic, Germany and Austria. We ride along some of the most scenic routes in the region following the path of the rivers Danube and Inn, taking in the very best of the region's rich culture, fabulous UNESCO towns and Baroque architecture. Savour typical foods and delicious beers & wines and look forward to kayaking in medieval settings assured in the knowledge that your Fresh Eire team will be taking care of every small detail so you can truly switch off, relax and pedal on! As with most of our tours, we include 4 dinners with wine/beer (one dinner on your own), 4 lunches (with wine/beer), all tastings, all included attractions (castle visits, museums & galleries), full van support, snacks...all the usual trimmings and a few extras along the way. Please see our Blogs for Prague and for Vienna to help with pre and post trip suggestions.
Itinerary
Day 1, Sunday
Your Fresh Eire Adventures craic commando team will meet you in Prague at 9 am where we'll begin a walking tour of the Prague, the capital city of Czech Republic. Known as "the City of a Hundred Spires," the heart of Prague is its Old Town Square, with its Gothic cathedrals, colorful baroque buildings, and the medieval Astronomical Clock, which delivers an animated show every hour. Circa 1402, the impressive pedestrian Charles Bridge is lined with statues of Catholic saints as it overlooks the Danube River.
We'll catch a 3-hour train to Ceske Budejovice and ride via Holasovice to the quaint, medieval UNESCO heritage town of Cesky Krumlov. While being fitted to your bike, we'll have a picnic lunch. After a review of bicycling safety, we'll introduce you to your bikes, show you how to change gears and use the brakes (please, humour us – it's always best to go over everything as every bike is different), and make some micro adjustments to ensure a comfortable ride for the week ahead and then we'll set off.
On this first day, we'll take a point-to-point ride from Ceske Budejovice to Cesky Krumlov (via Holasovice), where we'll arrive at our first hotel of the trip; the beautiful, bohemian Hotel Bellevue where we'll stay for two nights. You'll have ample time to relax and change before dinner, and we'll meet for a pre-dinner beer or wine tasting around 7.30 pm before enjoying an authentic local gourmet meal – Na zdraví!
Included meals: lunch, dinner
Classic hotel: Hotel Bellevue (4 star)
Deluxe hotel: Hotel Bellevue (4 star)
Day 2, Monday
After breakfast at our hotel (served from 8 am), we'll meet in the lobby and have a brief meeting discussing the day's route and highlights. This morning we'll cycle through the quiet countryside toward Plav, a quaint small Bohemian village on the banks of a river. After a delicious lunch, we will tour the Český Krumlov Castle and Rosenberg family château in the afternoon. Dating back to 1240, the monumental castle was built by the Witigonen family, the main branch of the powerful Rosenberg family, and houses the breathtaking Český Krumlov Baroque Theatre. Situated on the Vth Castle Courtyard, the theatre is one of the most completely preserved Baroque theatres in the world.
"The Baroque Theater at the Český Krumlov castle is a gem in the crown of theater heritage on our planet". - Professor Peter Perina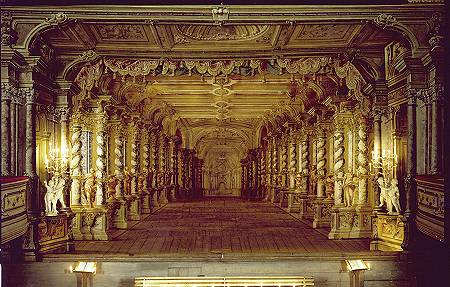 Later this afternoon we will kayak around the town of Cesky Krumlov before returning to our hotel. We'll meet for dinner at 8pm and enjoy another wonderful authentic meal together at a fabulous local restaurant.
Included meals: breakfast, lunch, dinner
Classic hotel: Hotel Bellevue (4 star)
Deluxe hotel: Hotel Bellevue (4 star)
Day 3, Tuesday
After breakfast at our hotel (served from 8 am), we'll meet in the lobby and have a brief meeting discussing the day's route and highlights. Please make sure your luggage is ready for transportation (and please look under the bed to make sure your favourite pair of socks has been packed) following breakfast. Please leave your bags packed inside your rooms and we'll take care of your luggage ensuring it will be collected and taken to our second hotel in Passau. We will set off at 9am on our bikes.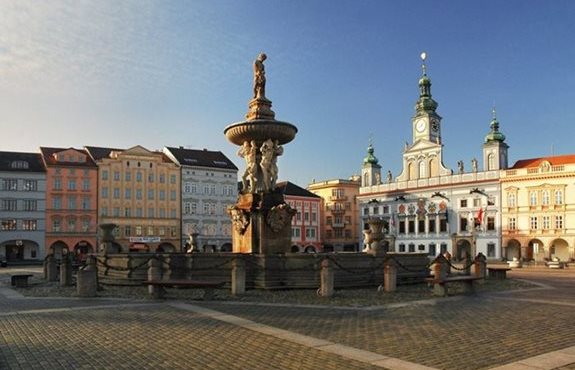 Today's ride is one of the longest of this tour – 50 miles, but don't fret as it's also a smooth and scenic ride through the majestic Bohemian Forest (known in Czech as Šumava and in German as Böhmerwald) – the most far-reaching forest landscape in Europe called the "Green Roof of Europe." We'll also cycle through and the extinct village of Nove Udoli at the Czech-Bavaria border before stopping for lunch at a Bavarian Beer Garden - Prost!
After a festive feasting of beer and traditional Bavarian cuisine (Knödel, Schweinshaxn, Obatzder, savory sauerkraut), we'll weave along the Three Rivers (Danube, Inn, Ilz) Known as the Three Rivers City, Passau lies at the confluence of the Danube, Inn and Ilz rivers. The city is overlooked by the 13th-century Veste Oberhaus, a hilltop fortress housing an observation tower and a museum. The old town below is known for its romantic squares and promenades, beautiful bridges and baroque architecture, including St. Stephan's Cathedral.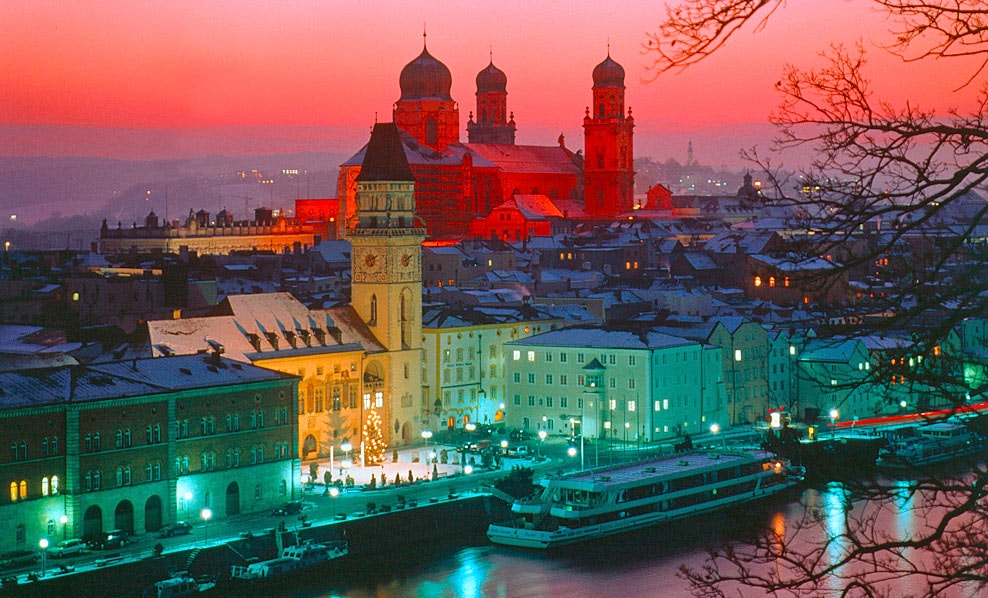 Once in Passau, the group will check in at the contemporary delight that is the Dormero Hotel where you'll stay for two nights. Upon checking in, as usual, you'll find your luggage has been sent to your respective rooms and on this day you'll have at least an hour and a half before we meet up for dinner in a central Passau restaurant.
Included meals: breakfast, lunch, dinner
Classic hotel: Dormero Hotel (4 star)
Deluxe hotel: Dormero Hotel (4 star)

Day 4, Wednesday
Our fourth day takes us along the Inn River on a 35-mile loop, following the Germany / Austria border. We'll stop in Schärding, a northern Austrian state of Upper Austria, and a major port on the Inn River. Historically, it was owned by the Bavarian family Wittelsbach until 1779, which reflects in the town's colorful central square and gabled-roof houses.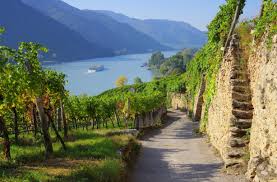 Today, you will be free for lunch, but we will make several recommendations. We'll stop and explore the magnificent Neuburg fortress before returning to Passau, where you'll have the option to visit the 13th-century St. Stephan's Cathedral, which houses the largest cathedral organ in the world with 17,974 pipes.
Included meals: breakfast
Classic hotel: Dormero Hotel (4 star)
Deluxe hotel: Dormero Hotel (4 star)
Day 5, Thursday
This morning is another moving day. After a traditional breakfast (more regional pastries – eat early, eat often!), you'll have the option to uncover the wide variety of exciting water sports offered on the Danube River (kayaking or rafting), before setting off on our point-to-point ride through the historic rural villages of Schlögen, Aschach, and Ottensheim in Upper Austria.

We'll then wind along the Danube waterway for some delicious wine tasting in the Wachau Valley, a UNESCO heritage site that lies in the Danube valley between the towns of Melk and Krems. The lovely landscape of rich, rocky riverbanks and rolling hills of terraced vines, produces some of the best white wine in the world (aka "liquid gold") with decades of aging potential. The region is particularly known for its complex and fruity Riesling and expressive Grüner Veltliner, the most important autochthonous grape variety in Austria.
We will transfer you to the small market town of Weissenkirchen, which means "white church," named after the 14th Century Gothic fortified church that overlooks the picturesque foothills of the plateau and charming courtyards. Tonight, you'll be free to explore the village, including the 10th century St. Michael's Church, one of the oldest churches and few remaining Romanesque buildings in Austria, before enjoying dinner on your own.
Included meals: breakfast, lunch
Classic hotel: Weissenkirchen (4 star)
Deluxe hotel: Weissenkirchen (4 star)
Day 6, Friday
Our sixth day's ride sees us look along the Wachau Valley for 35-mile with an optional visit to the beautiful Benedictine Abbey in the town of Melk, and a ride along the Danube to Spitz, Durnstein.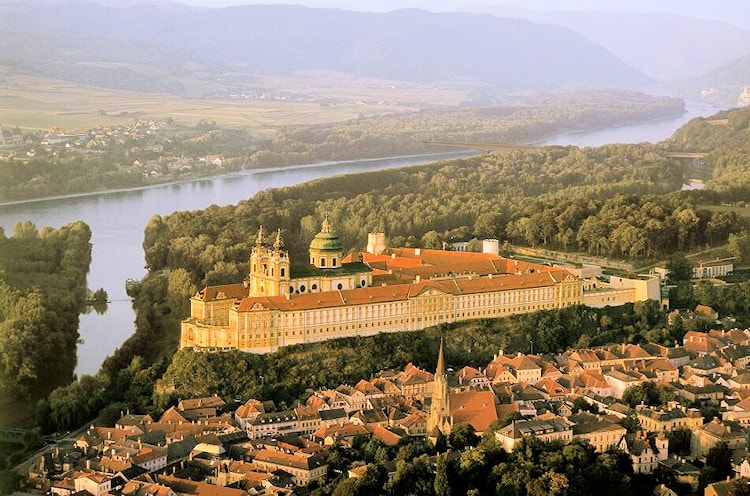 Tonight our final dinner together will be at our beautiful and authentic hotel. We'll toast our week together with a selection of wine from the extensive wine list which features some familiar bottles and regions from where Fresh Eire Adventures offers other wonderful tours. Bon Appétit and Prost!
Meals: breakfast, dinner
Classic hotel: Weissenkirchen (4 star)
Deluxe hotel: Weissenkirchen (4 star)
Day 7, Saturday
This morning at approximately 8.30am, after breakfast, we'll bike 15 miles before being transferred to the artistically grand capital city of Vienna. We will then end our journey with a lovely walking tour of the city's Baroque streetscapes, imperial palaces, historic cathedrals and musical masterpieces. Please see our Blog post on Vienna's attractions, post trip hotel recommendations and restaurants.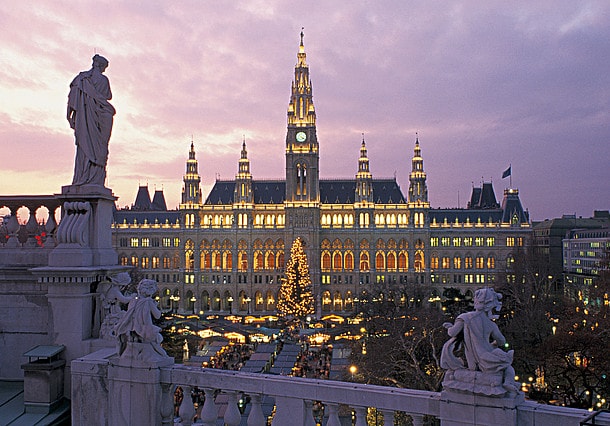 While our trip ends here before lunch, we'll ensure your luggage is transferred to your Vienna hotel or stored at the train station so you can enjoy this stunning city unencumbered. Pedal on!
Included meals: breakfast

Click here to see the top recommendations for Berlin
Click here to see the top 5 places to visit in Prague
Click here to see the Vienna recommendations
---
Dates Prague to Vienna
Any start dates available upon request (subject to availability)
Prices Prague to Vienna
Classic: US $4,795 pps. Single supplement US$500
Luxury: US $5,695 pps. Single supplement US$800
Included Prague to Vienna
Use of hybrid bike and helmet. More about our bikes
Transfer from Prague centre on start day
Transfer to Vienna centre on end day
4 exquisite dinners & wine
4 gourmet lunches & wines
Admissions to all included attractions & tastings
Baggage transfers
Tips for hotels/restaurants
Healthy snacks, water, full guiding services, support vehicle.
6 nights B&B in 4-star hotels (Classic / Deluxe are in different room categories)
Extras Prague to Vienna
Upgrade to a carbon road bike or e-bike at extra cost. More about our bikes
Self-guided extension packages available in Prague or Vienna (3 nights, 4 star from $1295 pps)
Guided extension packages available in Prague (3 nights, 2 days guided tour, 1 free day from $1595pps)
Gratuities for guides