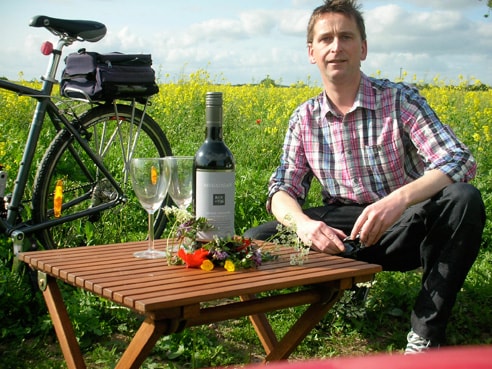 Fresh Eire Adventures was set up in the fall of 2010 by Padraic Doorey. Padraic has thirteen years experience in adventure tourism and has worked for many of the industry's best known names. This expertise and insider knowledge, along with a keen sense of value, allows Fresh Eire Adventures offer some of the best value adventure cycling vacations in the world - frequently offering identical trips at 50% of the cost of our competitors.
Having also worked in industries as diverse as investment banking and the media, and holding degrees in Law and Business, and a Masters in Law, he has taken his love of travel, adventure, people, great food and good times and established Fresh Eire Adventures in his hometown of Castledermot in the County Kildare countryside in Ireland (Eire).
Fresh Eire Adventures recognizes many seasoned travellers want a variety of service levels from basic to luxury accommodations, from fully-guided packages to self-guided adventures. Offering both standard and bespoke, customized vacations, we promise to give you an unforgettable experience, rich in local culture and colourful characters, devoid of the ordinary, all at an affordable price. #pedalon
'Before you go on any journey, remember to pack the right state of mind'.
—Robin Esrock, Travel Writer.
Come join us on one of our exciting adventures!
I dislike the term 'package tour' as it seems as though everything is presented as a run of the mill experience. This is not what we do. I understand, from my 13 years in the adventure tourism business, that my guests are after a unique and authentic experience, presented by local Guides. This can only be provided, in my view, in an organic way. It is imperative that I spend a little time getting to know what the guest's motivation is, and interests are, in order to best meet and exceed their expectations. I achieve this by meeting with my guests using Skype/telephone/email before they even leave home and conducting an informal interview. We frequently then try to best match guests with others with similar interests, abilities and motivations; guests have joined trips as strangers and left as friends - they return year after year to meet up again on a new trip. A vacation shouldn't be an endurance test; it should be a relaxing way to get to know a destination with some fabulous company along the way. That is what we do and I believe that is what makes us unique.
- Padraic Doorey, Founder and Managing Director.