Andalusia Bike Tour
Dates Andalusia | Prices Andalusia | Included Andalusia | Extras Andalusia
Please see our blogs for Seville and Barcelona to help with pre and post trip suggestions.
This 5 night, 6 day bike trip starts Seville, typically on a Sunday, and ends with a visit to Grenada's infamous Alhambra on Friday morning. In between expect to enjoy the very best of Andalusian culture, stunning bike rides, delicious meals and outstanding local wines, stunning sights and exemplary customer service. Our first two nights we spend in the dramatic hill-top town of Ronda, famed for its vistas and stunning viaduct. We then cross the infamous Caminita del Rey and stay for one night in Antquera before finishing our glorious week together in La Bobadilla. #pedalon!
This region is hilly and so we offer Electric-assist (e-bikes) as standard on this bike tour. We can offer hybrids and road bikes to the more enthusiastic rider who enjoys a challenge. With the E-Bike the trip is rated Easy, while using pedal power alone we rate it as Moderate to Advanced.
Itinerary
Day 1
We will meet in Seville around 10.30am with pick up starting from your chosen pre-night hotel (we have plenty of options for your to select) and we transfer you out of the city to our starting point of Zahara de las Sierras where will will visist Molino El Vinculo, an Olive Mill which produes delicious regional oil. After a delicious lunch, we'll introduce you to your bikes, remind you of how to stay safe on your bike during a bike trip and then set off. Remember, if this is your first bike trip, we're always on hand to support you on the bike and in the support vehicle. While the ride today is a short 15 miles, it is immensely sweet. We'd like to offer our riders a transfer into the town of Ronda as it can be a little tricky - our vehicle will meet the riders at a safe rendezvous point on the route; while you're enjoying a cold drink the guides will load your bike and we'll set off together to arrive at our first hotel - the magnificent Reine Victoria in the centre of town. Upon check in you'll have around two hours to yourself before we meet for a pre-dinner cocktail and then dinner in the gastronomic hotel restaurant. Expect exquisite cuisine from this very highly rated establishment, and some delicious regional wine also.
Although Seville benefits from a generous climate with a lot of sun and rare rainfalls, it is only one of the numerous qualities that make this city and its surroundings a destination of choice among people looking for good times. Thanks to its international San Pablo airport and the brand new AVE high speed rail link, Seville is a really well served town. This easy access will allow you to discover and enjoy its incredible cultural backgrounds, stunning landscapes as well as its renowned traditional gastronomy.
Seville and its architecture are the result of different influences due to the diverse peoples who lived and conquered the city throughout the centuries. From the first Roman colony, to the Moors' invasion to the Christian «Reconquista», all those periods have strongly contributed to the beauty of Seville and its magnificent architectural legacy.
The Sevillian cuisine has naturally a Mediterranean core with, inescapably, excellent olive oils and traditional savoury wines but also outstanding anises and liqueur in Sierra Norte (one hour north of Seville). You can as well expect a wide range of fresh fruits and vegetables, rice grown in the marshlands, honey and an excellent selection of fish and meat. If France is the undisputed champion for the quality bread production, Seville also has a great tradition of baking bread.
Ronda
Ronda is one of the most ancient cities in Spain, located at the north-west border of the province of Málaga. This wonderful city is perched on a plateau of mountains and the Guadalevín river divides the city in two distinct parts which give to Ronda an unreal appearance worthy of the best tales. Besides its scenic appearance stressed by the huge bridge connecting the two parts of the city, Ronda is full of historical wonders. Throughout the centuries, the town was invaded several times. Every occupant of the town has left remarkable traces resulting in a splendid mix of styles, times and cultures. The Moors sublimated the city by endowing it with plenty of architectural embellishments, notably the Laurel Castle which was considered by the King Al Mutamid as the «best jewel of [its] Kingdom».
Reine Victoria is our freshly renovated 4 star hotel in the dreamy city of Ronda. Thanks to its renovation the hotel has now a brand new spa and wellness centre which will make your stay in Ronda even more enjoyable. Indeed after a day of exploration, the hotel's top facilities will allow you to regain all your energy. Besides its cutting-edge equipment, the hotel offers a wonderful view as it is located on the edge of El Tajo gorge. Indeed the Reine Victoria's terraces will without a shadow of doubt revitalize you and your thirst for new adventures!
Included meals: lunch, dinner
Hotel: Reine Victoria
Day 2
This morning, after a delicious typical Iberian breakfast we'll meet for a route review to discuss with your the attractions, the rides and the challenges which await you today. We will enjoy a glorious loop ride today, starting from the hotel, visiting Montejacque, Jimera de Libar and Atajate.
Those three villages are located close of the Grazalema National Park and are present the same characteristics as the «white towns», which refers to the whitewashed walls of the houses. The contrast with the green natural surroundings confers a real charm to those villages highlights to weight of the past when you walk through the streets.
Montejaque
This a beautiful tiny village created at the time of the Berbers settlers where you can wander around and appreciate the charm of its streets. Its population has been working on developing tourism to share their love of Montejaque with Spanish but also international tourists. You will find here a dozen of welcoming local restaurants offering traditional dishes for a fair price, even if you are not too hungry you can try the inescapable Tapas that goes really well with a glass of wine.
Jimera de Libar
The village has the original characteristic to be divided in two parts, there is the part of the village on the mountainside and the other one in La Estacion (the railway station) along the Guardiaro river. In Jimera de Libar, traditional beverages named «mistela» and «zarzaparilla» are produced by villagers.
Atajate
It is the smallest village of the Malaga province regarding its population counting around 200 inhabitants. The village is located 745m above the sea level offering splendid viewpoints. Atajate is anchored between moutains and has a beautiful fauna and flora allowing its visitors to enjoy beautiful hikings. You can explore the «Torcal of Atajate» which is stone labyrinth.

Included meals: breakfast, lunch
Hotel: Reine Victoria
Day 3
Today is a moving day which means that after breakfast we'll be checking out of our hotel and transporting your luggage while you get to ride. Todays ride has some extreme elevation gains (c.1500 m) and two crossings of the infamous Caminito del Rey.
Antequera
One of our first attractions is Antequera, a millenary town located at the heart of Andalusia and dominates large valley. Vestiges from the neolithic times are still in an impressive state allowing the town's visitors to contemplate important monuments like the dolmen burial chambers of La Menga, Romeral and Viera. The arrival of the Moors in the city marked the beginning of a new era. Indeed, they made of Antequera a fortified town and an important strategic point of the Caliphate of Córdoba during the tenth century. Even in the mid seventies, although controversial for some people, Antequera played a major role in the autonomy of Andalousia. All along its existence, the city was highly prized and nowadays Antequera still abounds of treasures and secrets which will undoubtedly blow you away.
El Caminito del Rey
Until very recently, this walkway located at an altitude of one hundred meters, was considered as one of the most dangerous paths in the world. It was constructed in a narrow gorge at the beginning of the twentieth century to allow workers to commute between two hydraulic power plants. It is commonly named as Camino Del Rey (meaning the king's path) because the King Alfonso XIII inaugurated it. After several deadly incidents the path was closed, the regional government of Andalusia and the local government of Malaga launched a colossal restoration project to make the site safe. The work was completed in 2015 and the refurbishment project received several highly prestigious prizes such Europa Nostra rewarding the efforts made towards the conservation of the cultural and natural heritage.
Now Camino del Rey is no longer the former path praised by hotheads seeking danger and adrenaline but rather offers a wonderful hike accessible at any level. You will indeed enjoy a marvellous moment surrounded by an incredible natural setting where you will find rare geological features as well as a unique fauna and flora. Camino del Rey is a must to see which will provide you a wide range of feelings going from the excitement to the admiration and always in the utmost safer conditions.
NOTE: This attraction is not suitable for any guests who have a fear of heights, have an unsteady disposition or who are uncomfortable with challenging hiking terrain, narrow rocky paths and who cannot comfortably hike for approximately 2-3 hours.
Our hotel tonight is a stunningly restored former convent, la Conventa La Magdalena. Located in a wonderfully Andalusian setting, the old convent of San Pedro de Alcantara will amaze our guests with its stunning views, the surrounding scenery of olive trees and its excellent location at the entrace of El Torcal Natural Park. The historic building was constructed in 1584 and restored in 2009 it is now a 5 star hotel (but more akin to a Fresh Eire Adventures 3.5 star grade).
Included meals: breakfast, dinner
Hotel: La Conventa La Magdalena
Day 4
Today is another moving day, so after breakfast we shall leave the former convent and set off by transfer to El Torcal. Our ride will start from there.
El Torcal
Who would have believed that more than one hundred million years ago, the whole region was under the water of Tethys Sea? Throughout the times and changes occurring on the planet, extremely violent movements pushed the sea floor upwards resulting in hills and mountains reaching for one thousand meters of altitude. Those unique and impressive landscapes were shaped during several millions of years by wind and rain's erosion. This natural treasure is today one of the most dramatic limestone sites in the world offering a perfect location for hiking. There are three routes fitting every ability. El Torcal is registered under the Antequera Dolmen site as a UNESCO World Heritage Site and will beyond its beauty activate all your senses as well as your imagination to perceive the evolution process of our world.
Loja
Loja is a small town at the western extremity of the Granada's province surrounded by the Sierra de Loja massif and crossed by the Genil river. It used to be a strategical defence base of the Moorish kingdom due to its advantageous geographical position over the plain. Loja was definitely regained by the Christians at the end of the fifteenth century and today we can still observe the remnants of the past. As the city was equally influenced by the Moorish and Christians, Loja offers an interesting dual perspective with a strong local culture as the town is landlocked in the mountains. You will find in the former citadel several authentic monuments translating a belligerent past but also a mixed identity.
Our hotel for the next two nights, the five star La Bobadilla, is a Royal Hideway hotel and is a sumptuous hotel located in Sierra de Loja area which offers an authentic Andalusian decor. In a constant quest for excellence, the hotel has been awarded with several distinctions with among them a citation in the Condé Nast Johansens acknowledging, rewarding and celebrating the previously mentioned purpose. This luxury hotel specifically focus on two aspects, the gastronomy and the well-being of its clients. To do so, the hotel dispose of a restaurant which is particularly dedicated to translate the Andalusian traditions in its cuisine. Moreover you will be able to enjoy their stunning SPA or wellness centre to relax and thus restore your energy to fully appreciate your next activity or bike ride!
Included meals: breakfast, dinner
Hotel: La Bobadilla
Day 5
This morning, again after breakfast, we'll meet for a route review to discuss the ride for the day ahead, and the attractions and highlighs which await you. We have a loop ride in store for you today which will satisfy any curiousities remaining from your week with us in Andalusia.
Casa-Museo del Jamón
One of the highlights today includes a visit to a Jamon Museum; a typical delicay of the region. Spain is well-known for its ham or Tauromachy tradition among others. In Rute, we will visit the Casa-Museo del Jamón to understand this old attachment to the ham culture. It is a good way to understand to the local culture as well as the importance of a product which is part of the every day life of the Spanish. It will also be an occasion to discover a unique know-how passed down from generation to generation and the passion animating the people who keep on cultivating this craft which has been vital to their subsistance over the centuries.
Tonight we will dine splendidly in the restuarant of La Bobadilla.
This our last night in La Bobadilla and we firmly intend to wow you. We will closely work with the staff to organize a gastronomic dinner based on range of local products to give you a taste of your Andalousian journey according to your preference or wish. We indeed want to mark our last hotel night together in the best way possible. This night we will celebrate our week together of various adventures, discoveries and emotions which, I hope, will provide memories that you will cherish for years to come.
Included meals: breakfast, lunch, dinner

Hotel: La Bobadilla
Day 6
This morning we will check out of our hotel after breakfast and transfer to the stunning city of Grenada.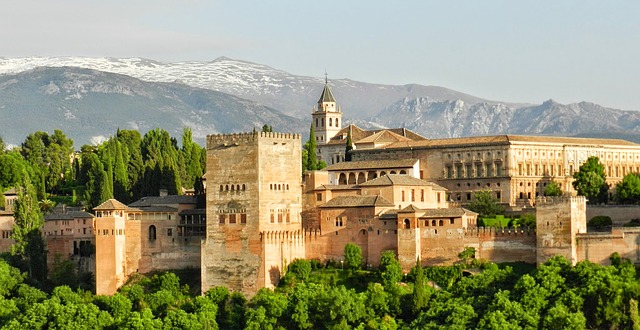 Grenada is a beautiful exotic cosmopolitan city which used to be the convergence point of both Western and Oriental civilisations. As a matter of fact, Grenada was the capital of the ancient Moorish Kingdom at the feet of the Sierra Nevada massif (meaning snowy mountain chain). The architecture of Grenada is a subliminal juxtaposition between the oriental style brought by the Moors who ruled the city during centuries and the Renaissance style introduced by the Christians after the «Reconquista». You will have the opportunity to admire the mesmerizing beauty of the Alhambra originally ordered by the Sultan Muhammad, one of the most fascinating palace and fortress complex in the world, where architecture and nature coexist in a symbiotic relationship. You will just as well appreciate the El Realejo quarter, whose nobility was conferred by the Christians who constructed several magnificent Renaissance monuments.
Note: In order to access all the features of the Alahambra you must book your trip ASAP; tickets are allocated on a first come first served basis. We reserve the "best available" tickets at the time of your tour booking. All guests need to have photo ID on them for the visit.
While our tour ends at this magnificent site, the city and its surroundings are a jewel of diversity for both its cultural as well as for its climate where we can find two contrary micro-climates. The local gastronomy is an authentic testimony of all those varied influences, which is to enjoy without moderation! It is true that this diversity wealth could be troubling, yet the best way to enjoy Granada is to let yourself be rocked progressively by the local rhythm and your own instinct. As such we highly recommend spending a few days here at the end of your trip.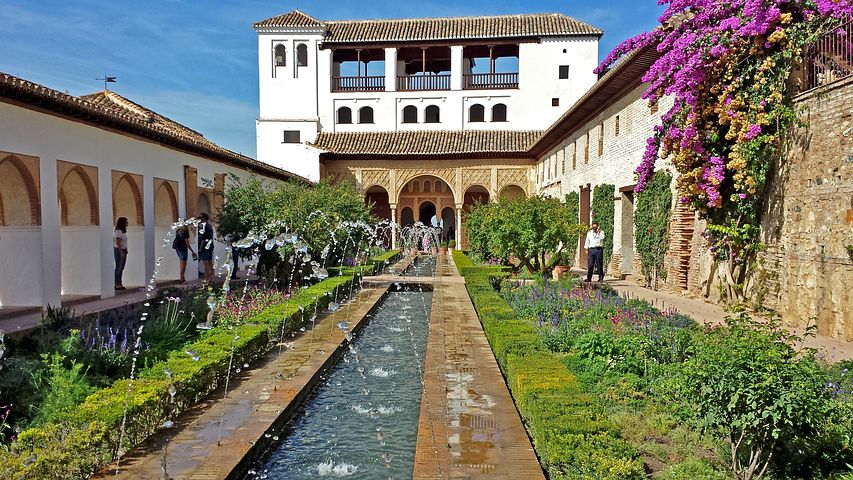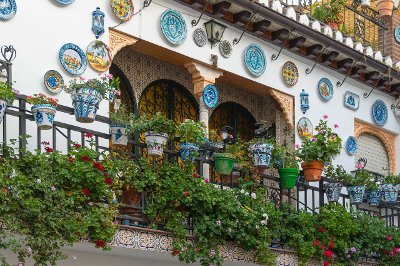 Included meals: breakfast
Click here to see some tourist attractions, hotels and restaurants
Click here to see the recommended hotels and restaurants in Seville
---
Dates Andalusia
Any start dates available upon request (subject to availability)
Prices Andalusia
We use the same hotels for our Classic and Deluxe packages: The difference is in the room categories.
Classic: US $4,995 pps. Single Supplement US $500
Deluxe: US $5,995 pps. Single supplement US $800
Included Andalusia
Use of hybrid bike or e-bike and helmet. More about our bikes
Transfers from Seville centre (or RENFE train station) on start day
Transfers to Grenada centre (or RENFE train station) on end day
4 exquisite dinners & wine
3 gourmet lunches & wines
Admissions to all included attractions & tastings
Baggage transfers
Tips for hotels/restaurants
Healthy snacks, water, full guiding services, support vehicle.
5 nights B&B in 3 star hotels (Classic) & 4 star hotels (Deluxe), with continental breakfast
Extras Andalusia
Upgrade to a carbon road bike at extra cost. More about our bikes
Self-guided extension packages available in Seville (3 nights, 4 star from $1295 pps)
Guided extension packages available in Seville (3 nights, 2 days Guided Tour, 1 free day from $1595pps)
Gratuities for guides
Related posts from our blog